About 32 Poems
Printed twice a year (in June and December) and distributed internationally with subscribers in over twenty countries, each issue includes 32 shorter poems, most of them under a page in length. This minimalist focus has fostered an intimate, unhurried reading experience since 2002, when Deborah Ager and John Poch founded the journal as an alternative to larger, less-selective, and more diffuse literary magazines.
In its fifteen years, 32 Poems has showcased many of the most-recognized poets currently writing in English, including Pulitzer Prize, National Book Award, and MacArthur Genius Grant winners, Poets Laureate, and recipients of the other major honors in American letters. The journal also prides itself on championing talented writers early in their careers, some of them previously unpublished. Those emerging poets have gone on to earn such honors as "Discovery"/The Nation Prizes, National Poetry Series Prizes, Ruth Lilly Fellowships, Stegner Fellowships, Walt Whitman Prizes, and many other prestigious book prizes, fellowships, and awards. Work first appearing in 32 Poems can be found frequently reprinted in the Best American Poetry and Best New Poets series, on such "best of" sites as Verse Daily and Poetry Daily, and in a wide variety of anthologies. Selections from 32 Poems have been made into short films and recited by high school students in the national Poetry Out Loud Contests. In 2012, WordFarm published Old Flame, a collection drawn from 32 Poems' first 10 years of publication. A finalist for the Foreword Book of the Year Award, Old Flame pairs 64 of the journal's best lyrics with brief prose commentaries from contributing poets.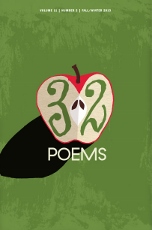 Since 2011, George David Clark has edited the journal, now based in Washington, Pennsylvania. In 2013, 32 Poems began publishing regular prose features online. These reviews, essays, and interviews have themselves been reprinted in collections of essays and criticism and in such series as the Poetry Daily Prose Feature. The journal also partners with teachers of creative writing through a program called 32 Classrooms in which editors introduce students to the craft of literary editing, discuss work featured in a recent issue, and invite student contributions to the ongoing conversation on the 32 Poems blog.